Why participate in the BoostUp Panel Affiliate Program?
Affiliate marketing is just selling other people's items for a commission. BoostUp Panel is a known SMM panel on a worldwide scale. It's one of the least expensive SMM panels you can buy, and people love it. Therefore, anyone will be able to sell these goods with little to no effort.



You will receive all high-quality marketing materials from us (emails, banners etc)

Our affiliate dashboard is organized and enables you to make more sales.

Bloggers, marketers, newcomers, and affiliate marketers may all use this.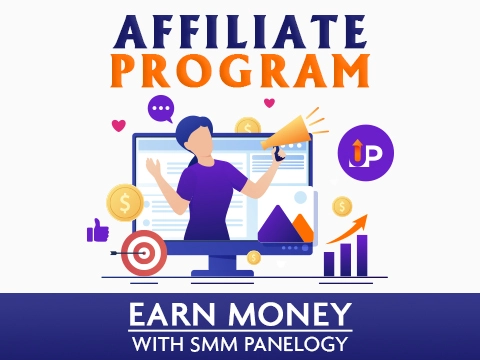 Looking for a Real Affiliate Program That Actually Pays? Join BoostUp Panel
1
Registration
Register
your personal account on boostuppanel.com to get started as an affiliate.
4
Advertisement
By advertising your referral link, you will bring more users and earn more commission.
2
Save Your Referral Link
Once you've registered, go to the affiliate page, and save your referral link.
5
Track Your Progress
We offer you a specialized affiliate dashboard that provides you with every information you need to track your progress.
3
Share Your Link
The most crucial part of your success as an affiliate and gaining a recurring commission is sharing your link.
Get a referral link now!
It's Super Easy to Sell!

Blogs & Media
Publish an article about our services!
Publish contents regarding our SMM Panel Service and tools on your blog




Use free medias to publish contents if you don't have your own website
RESULT:
You can earn daily money by sending referrals to us from these channels

Google / Facebook Ads
Implement ad campaigns
Use your Google/FB ads account and run ads using our referral links.




Run display ads. Use our cheap SMM Panel marketing materials to enrich your ads and send referrals.
RESULT:
Reach targeted customers fast and close deals

Messenger / Email Traffic
Promote SMMPanelogy via messenger or email
Email marketers can simply email their list with our referral links




If you don't have an email list, you can share our links on Messenger and other IM's
RESULT:
Generate even more income from your audience!

Social Media Networks
Promote SMMPanelogy social media Platforms
Lead your customers and partners from various social media to your affiliate link.




If you have your own partner's resource - promote affiliate links on it.
RESULT:
Your clients will benefit and you will receive additional income!
Spend a few hours each day earning thousands of dollars!
BoostUp Panel is a far better source of income than the majority of full-time work. Even the affiliates in our network that do the worst earn more than many popular part-time jobs in North America. This is due to the product's reputation for quality and honesty. Therefore, affiliates require little effort to generate revenue or qualified referrals. People in the world of social media marketing think that the BoostUp Panel is one of the best SMM panels.
Payouts
As long as you are part of the Instagram affiliate program, we promise that you will get paid on time. You can choose to get paid via many different payment methods. The minimum payout is $10.
Lifetime Commission
If you refer someone to the BoostUp Panel you will get a commission for as long as they are a member.
Advanced Monitoring
At any given time, you can check your personal affiliate dashboard. All of your progress will be presented to you in an easy-to-understand way.
User-Friendly Dashboard
When you sign up, you get access to an affiliate dashboard with all the information you need to track users and commissions.
Constant and Transparent Growth
The perfect candidate for our affiliate program is someone who seeks constant growth. On our part, we will provide you with reliable ways to monitor your progress and push you to grow even more.
24/7 Support
Our support is available to you via ticket, email, or live chat to answer every question you have. Communication is important, as together we can grow.
Affiliates love the BoostUp Panel. What They Have to Say About Our Program
You may now earn money by spreading the word about our company. It is a simple and risk-free way to earn income on referrals.
Thank you for assisting me in earning money!
In one month, I earned my first $1,000! One of the best panels, with everything I need for my social media! I started using this because I thought it was the best alternative to many of the panels that are on the market.

Best affiliate program ever!!!
The Partner Program has given us a new way to make money in addition to the social media services we offer. We help our clients improve their social media presence, and in return, they pay us thousands of dollars every month. It's win-win-win.

Great way to earn passive income!
So far, BoostUp Panel has generated over $5,000 in affiliate commissions! The best part is that everyone who joins only says good things about the panel. It's the best SMM panel that people actually love and can afford. Well done BoostUp Panel team.

Still Have Questions? Read Our FAQ Below
Do you have questions about our affiliate program? Here are our most frequently asked questions.
At its simplest form, the BoostUp Panel Affiliate Program allows you to earn commission for customer referrals using your unique affiliate link in content such as emails, blog posts, and webinars. Joining the program gives you and your business a simple way to add value to your site and audience while creating new revenue opportunities.
Upon registering on BoostUp Panel you will receive your unique affiliate link which will track all of your referrals. When inviting users to register on BoostUp Panel, always use your unique affiliate link. Our tracking cookies remain for 30 days, meaning that if someone click on the link, then you will be credited with the referral as long as the visitor register on the website, and you will receive 20% commision of every deposit he make for lifetime.
You're eligible to receive a commission for users that deposit funds, through your affiliate link. There is no maximum number of users you can refer, we want you to earn as much as possible.
The BoostUp Panel Affiliate Program supports many payment methods for affiliate payouts. We do payouts on Paypal, Bank Account, Cryptocurrencies, Payoneer, Payeer, Perfect Money and more…
The minimum payout amount is the minimal commission amount that needs to be earned by affiliate to include it to payout report. The minimum payout amount is $10.
Self-referrals for affiliate purchases are strictly prohibited. You will not receive credit when adding funds through your own affiliate link.
Ready to Start Earning Money?
20% commission on every qualified user. You will continue to earn this amount on every user while the user is placing orders. Be the one to gain up to $3000 monthly with your recurring commissions.