Digital Marketing Through AI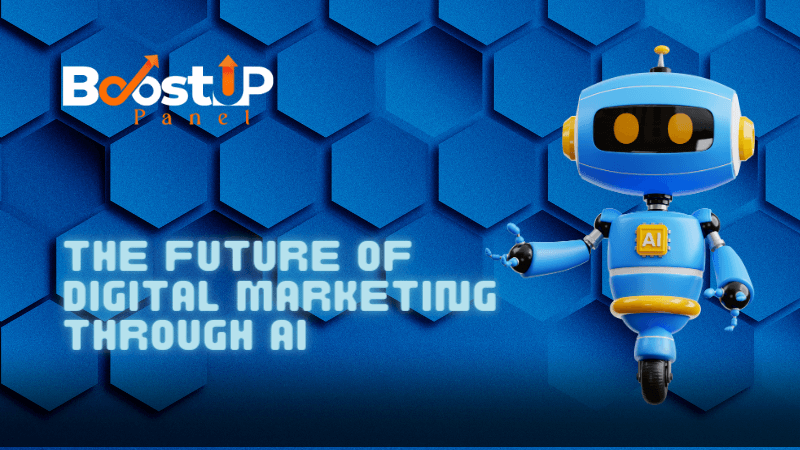 The use of artificial intelligence (AI) to power marketing initiatives is one of the most exciting advancements that is coming to the world of digital marketing. AI has the potential to completely change how firms approach marketing in the next few years because of its capacity to evaluate enormous volumes of data and provide customized suggestions.
What will digital marketing using AI look like in the future? See the following probable trends:

Improved Personalization: One of the biggest advantages of AI in marketing is its capacity to provide customers with highly customized experiences. AI is able to provide personalized suggestions for goods, services, and content by examining data on consumer behavior and interests. This degree of personalization may strengthen client connections and increase the efficiency of a company's marketing initiatives.

AI can also assist firms in more intelligently targeting their advertising. AI may assist companies in pinpointing the demographic groups most likely to be interested in their goods or services by evaluating data on customer behavior, hobbies, and demographics. By avoiding populations who are unlikely to convert, this may help firms save money on advertising and increase the overall efficacy of their advertising initiatives.

Better customer service: AI-powered chatbots and virtual assistants are becoming more prevalent in the customer service industry, and this trend is set to continue in the years to come. These AI-powered technologies may assist companies in providing quicker, more efficient customer support while lowering the requirement for human contact thanks to their capacity for understanding natural language and making tailored suggestions.

Improved Data Analysis: With its capacity to swiftly and precisely analyze enormous volumes of data, AI may aid companies in making better choices about their marketing strategies. AI may provide insights that organizations can use to boost their marketing tactics and raise overall ROI by seeing patterns and trends in customer behavior.

More Effective Marketing Automation: By automating repetitive processes like email marketing and social media posting, AI-powered marketing automation technologies may assist firms in streamlining their marketing initiatives. Businesses may be able to save time and money while delivering more unified, successful marketing messages.

AI is already used to generate content, such as blog entries, social media updates, and even marketing copy. As this technology develops, more companies may use AI to provide tailored content for their consumers.

The use of AI and machine learning to predict future events and trends based on previous data is known as "predictive analytics." Businesses may use this technology to better understand their marketing tactics and find new growth prospects.

Business organizations will need to tailor their content for voice search as voice assistants like Alexa and Siri gain popularity. Businesses can learn how customers use voice search with the use of AI-powered technologies, which can then be used to improve their content.

Virtual reality (VR) and augmented reality (AR) are two marketing tools that are gaining popularity as companies use them to provide consumers with immersive experiences. Based on consumer data, AI may help organizations customize these experiences, giving users a more interesting and memorable experience.

Monitoring social media platforms for mentions of your company or sector is known as "social listening." Businesses may react fast and effectively to their consumers by using social listening products with AI-powered trend and conversation detection.

Social media marketing (SMM) panels are a well-liked method for companies to control and automate their social media marketing initiatives. AI is used in SMM panel. In order to improve the targeting of social media advertisements, AI is being utilized in SMM panels to evaluate data on customer behavior, interests, and demographics. In addition to increasing the overall success of the campaigns, this may assist firms save costs on advertising. Moreover, AI may be included in SMM panels to automate some duties like social media post scheduling and customer support. Keeping their social media accounts current and interesting for their audience may save companies time and resources.

Sentiment analysis is another use of AI in SMM panels. This technique analyzes social media postings to ascertain the general attitude toward a brand or product using natural language processing (NLP). This might assist companies in comprehending the sentiments of their clients and modifying their marketing plans accordingly.

Of course, there are possible drawbacks to take into account with any new technology. Businesses will need to be aware of the ethical consequences of utilizing these technologies, particularly worries about privacy and data security, as AI becomes more common in marketing. Businesses must also make sure that their use of AI supports their broader company goals and is consistent with their brand values.

Ultimately, the use of AI in digital marketing is both intriguing and challenging. Businesses that can use AI to provide targeted, impactful marketing messages will be best positioned to succeed in the years to come as they navigate this quickly changing business environment.